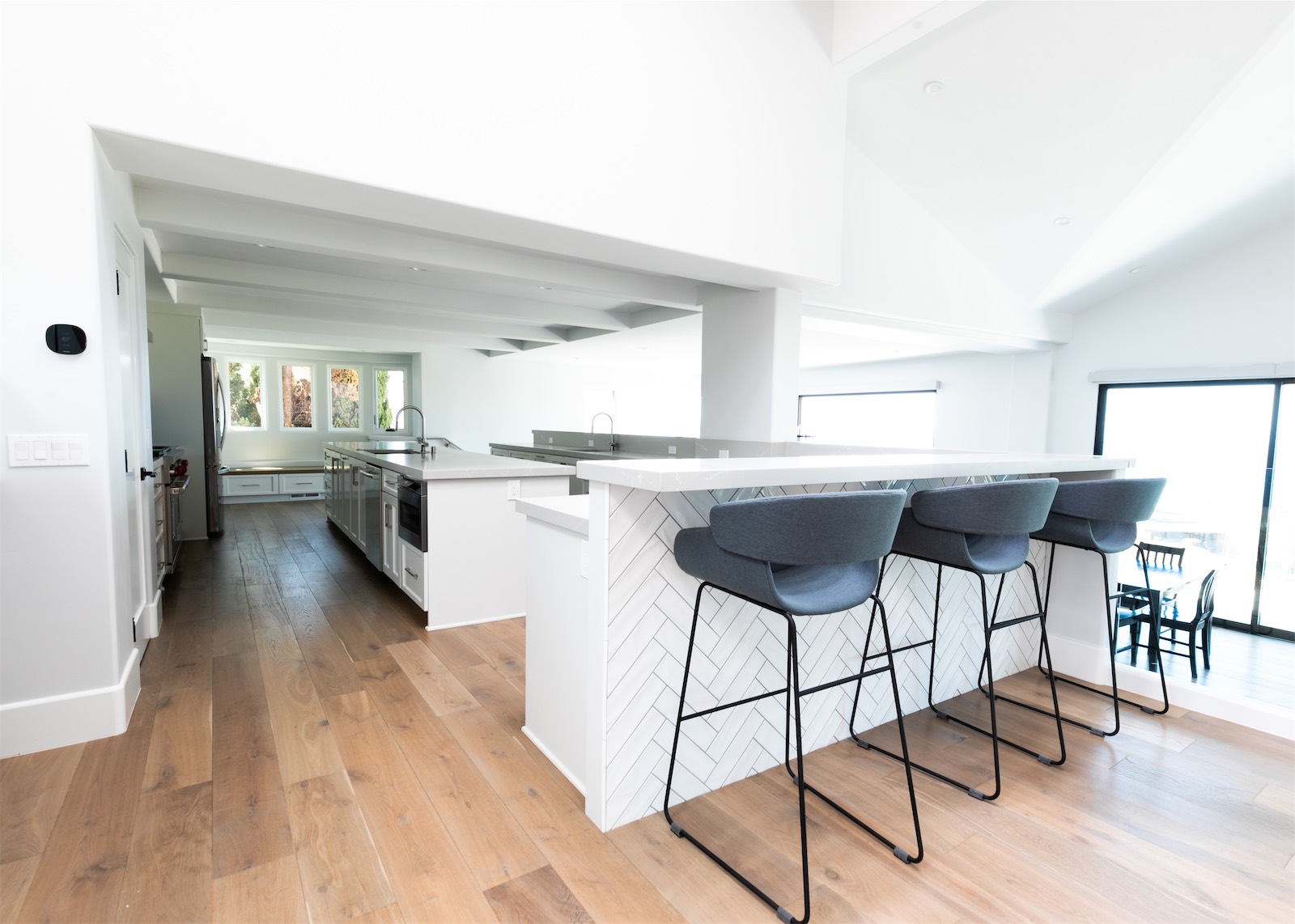 Modernizing a Mediterranean
La Jolla

, California

Filled with contemporary curves and Mediterranean finishes, my clients wanted their recently purchased home to be more in line with their modern aesthetic. We began by choosing a palette of white and muted neutrals, adding a few points of contrast and opening the flow of the home from the entry through the common areas.

Originally the three levels were accessed by two staircases on opposite sides of the home. We connected the levels with one staircase, replaced scrolled wrought iron railings with glass panels and squared off curved stairs for a more modern look.
In the kitchen we replaced a small island and peninsula that limited sight lines with a long island to create easier access from one side of the home to the other. We added a bar with high stools to capture ocean views above the kitchen counter as well as a built-in bench off to the side as a drop area for backpacks and bags, keeping the area uncluttered.
In the dining room we installed a built-in sideboard for more storage and above the table added a light fixture that complemented the clients' style while maintaining ocean views from the kitchen. Operable black-framed sliders give access to the deck and new window treatments filter the voluminous light.
Finally, we freshened up the laundry room and en suite bathrooms. In the powder bath we painted the existing vanity and mirror a deep blue to modernize the space; in the guest bathroom, we added subway tile with a triangle motif and paired it with a rectangle porcelain tile and corresponding triangle tile on the shower floor; and in one of the children's bathrooms, we found a balance between what the child liked and the parents liked with a muted hexagon tile and matte black accents.