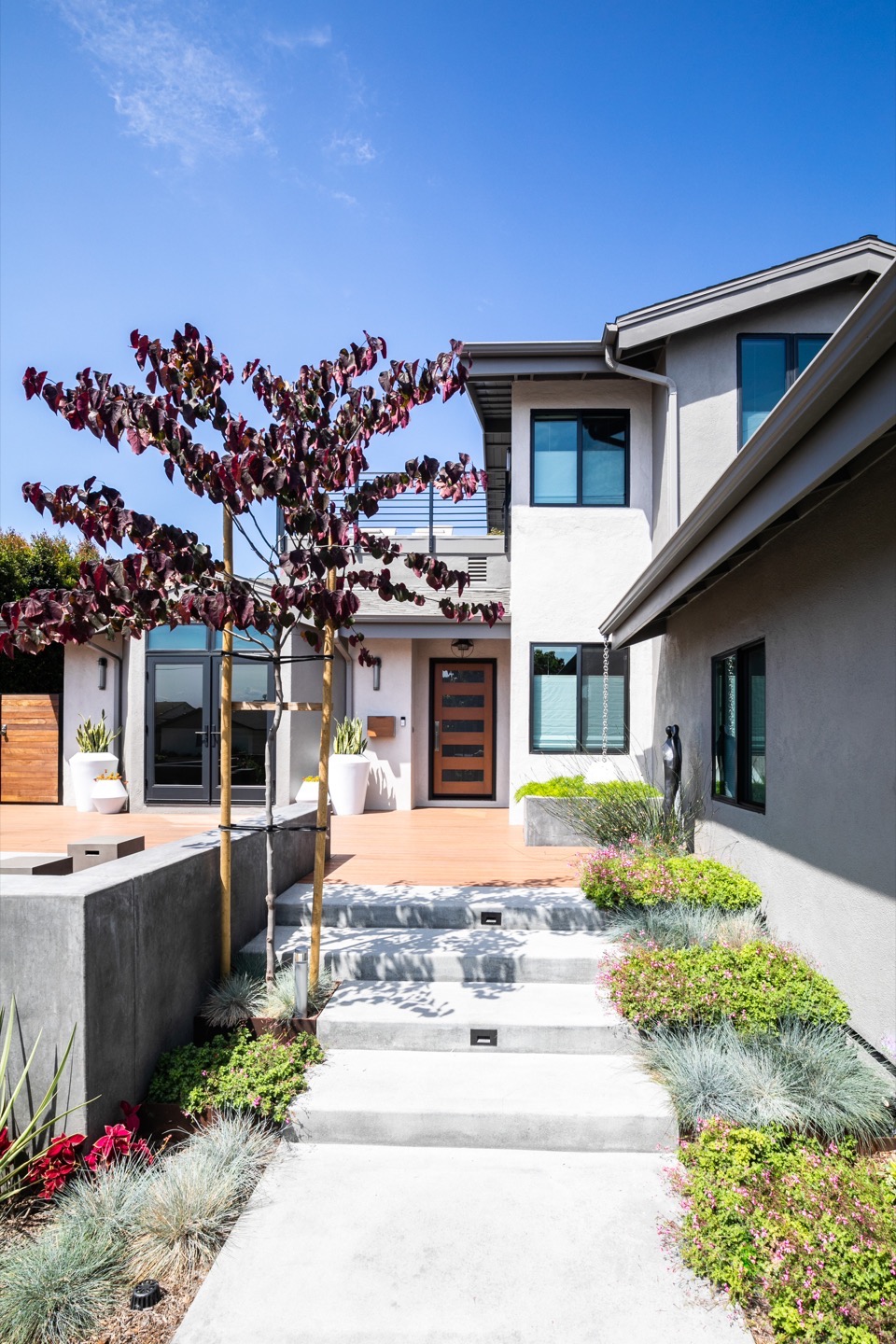 Whole House Remodel
Bay Park, CA
The client is a fellow architect who needed help translating her ideas into a comprehensive plan. In the living room we updated the fireplace mantle using black stone with a subtle sparkle and added a new box and millwork. We also used an etched gray-taupe stone on the surrounding wall, adding both natural color variation and a geometric pattern. We placed new window treatments, carpet and paint throughout the home and made molding, trim and railings consistent.
In the master bath, we were able to create an accent wall with a slab of polished Labadorite featuring blue and green veining. We used the stunning stone as a backdrop for an elegant standalone tub, which we made room for by enlarging the shower and placing the tub within the glass walls.
In the laundry room, the challenge was to carve out as much storage as possible while carrying through materials used in the rest of the home; the black sparkle stone on the fireplace mantle appears on the countertop and the crisp white used on the trim appears on the cabinetry.
In the formal dining room, we created symmetry and opened up the space by French doors. Since the client loves to entertain and envisioned a space for guests to gather off of the dining room, we transformed a closed-off and unused yard into an inviting deck with built-in seating and movable tables to accommodate pre-dinner cocktails and post-dinner conversation.
We also created an entertaining area in the back yard by designating two gathering places, one around a sculptural firepit and the other under a trellis, replete with curtains and louvers, allowing for specific environments: full sun, full shade, partial shade or full privacy.
We refreshed the exterior by adding new windows, railings and doors, including a garage door that echoes the wood and glass elements seen at the front entry. We also used two shades of paint to play with depth and change how the stories relate to one another. Finally, since the house is a few miles from the ocean, we used marine-grade finishes on railings and modern sconces to stand up to the corrosive salt air.